Corporate Social Responsibility
Always Thinking How to Make Feedback to The Society We Live With
A Regular Inspection Is What Really Mattered!
An aeration blower fault caused a fire in Tucheng, Unitech electronics company on Sep. 28 evening. Furthermore, a pipeline was broken because of sulfuric acid, it caused a serious consequence to the bag of breathing apparatus. After the duty, the rescue team found that their equipment was dissolved, even contaminated with sulfuric acid. The firefighters gradually found that they have a slightly uncomfortable and burn injury.
Taiwan K. K. Corp. offer the services of regular inspection to all the fire brigades that we serve. The regular inspection is to check whether there is any of clearing necessary, or the damage to clothing, dirty, repairing necessary, during the training and after doing rescue and relief work. According to the record of the pictures, some of the clothing was dissolved and contaminated by sulfuric acid seriously, even penetrated to the innermost layer, and made the materials blackening. In this situation, the fibers already absorb all chemicals, then the whole clothing has been destroyed and degraded performance of the function to tear strength. When the firefighters wear the damaged clothing in an unpredictable site, could you image the consequence?
Fire Fighting Suit is the most important gear to protect firemen's life. Fortunately, this protective fire fighting clothing has played its greatest effect, that is, "protection from direct injury", otherwise, many firefighters will be injured this time!
You may be very curious, could they use these damaged clothes and carry on? The answer is, all the damaged clothing should fall into disuse.
The benefits of "Regular Inspection" is, it highly raises the function of protection to the Fire Fighters. It can check whether the clothing is still in proper for usage and intact, if there is any problem, we can find it out and solve it immediately. As a role of corporate social responsibility, we think the work of regular inspection is absolutely the way to protect Fire Fighters. We must remind "Do not take life as a joke"!
Thank you for all the Heroes!!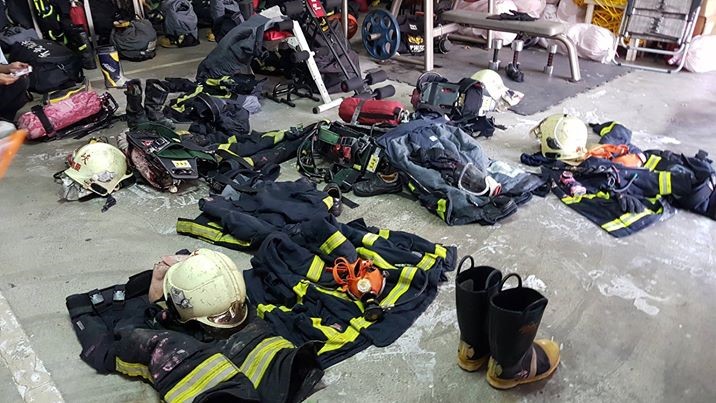 The chemical sulfuric acid has even penetrated to the innermost layer, it caused the materials blackening