Blaze of Glory - Premium
Protection of the wearer is our foremost mission, and Premium exceeds this goal. We learn from actual feedbacks and experiences from firefighter who risk their life to save lives and enhance the ability of suits to the maximum.
More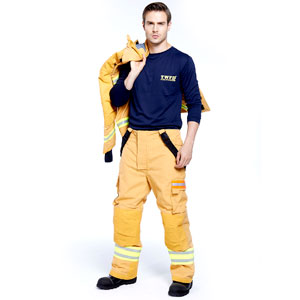 TWFD® T-shirt
Self-owned fabric brands, TWFD® guarantees quality and origin of materials. The T-shirt is of good quality for moisture perspiration and will soon be ready for purchase on Taiwan PChome online shop.
More
KANOX® FR Fabrics / SUPER ARMOR Turnout Gears Head Office Location Invoering
Taiwan K.K. Corp. offers you innovative fire resistant fabrics, flame retardant clothing, and high performance turnout gears at reasonable costs. Taiwan fire fighting garment and clothing supplier providing high performance protective turnout gear, fire retardant clothing, flame retardant fabric, anti-static fabric, heat insulation firefighter clothing. With more than 20 years of experience in manufacturing fire fighting garment, protective clothing, fire retardant fabric, fire resistant clothing, flame retardant fabric, fire retardant clothing and more.
Head Office Location
Our Head Office

Taiwan K.K. Corporation
Address: 5F., No. 14, Lane 235, Baoqiao Rd., Xindian Dist., New Taipei City 231028, Taiwan
Phone: +886-2-2918-5336
Fax: +886-2-2913-3188
E-mail: kanox@taiwankk.com
Taiwan K.K. Corporation Location