Taiwan K.K. will Present its FF Suit on Next Düsseldorf A+A in October 2017
2017/06/14
Taiwan K.K. Corp.
Show Date: October 17-20 2017 Booth: Hall 7, No. D14 Venue: Messe Düsseldorf - Taiwan K.K. Textile Division will display its latest inventions for work equipment and firefighting. We showcase various kinds of bunker gear, PPE, FR fabrics and welding blankets, for those who are concerned with the health of their workforce. For further information contact our sales team under: kanox@taiwankk.com
2017 Düsseldorf A+A, one of the biggest work safety trade shows in the world held once every two years will open this autumn (2017) in Düsseldorf, Germany. Here global suppliers for work safety, security and health at work will showcase their latest inventions in work equipment. The A+A is the leading joint event for those concerned with occupational safety in Germany. The waiting list for those who want to exhibit here is long and just a third of all booth space applicants will be that lucky to get a stand at the fair. Taiwan KK is one of those lucky suppliers, that got a booth. We will present our latest innovations and developments at our stand in Hall 07, No. D14. Our main attraction will be once more our fire protection suits, but we will also present fabric solution for other fields such as welding, workwear etc.
Taiwan KK focuses on functionality, leeway, maneuverablity and protection for the development of its protection suits as well as its fire-resistant fabrics. Nothing should be more important to a company owner than the health & life of its workforce no matter if that is in the field welding, firefighting or the gas & oil industry. That is why people and their work safety were and always will be a relevant topic for any future-oriented business like Taiwan KK.
The A+A is an optimal presentation platform for Taiwan KK to showcase its innovative products. Visit us at our stand (Hall 07/D14) for getting a feel of our products, enlarging your network, getting some new expertise in the field of work & fire safety and most of all making some new friends. We welcome you at our booth at Düsseldorf A+A.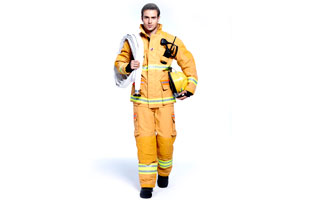 Blaze of Glory - Premium 701-I
Protection of the wearer is our foremost mission, and Premium 701-I exceeds this goal. We learn from actual feedbacks and experiences from firefighter who risk their life to save lives and enhance the ability of suits to the maximum.
More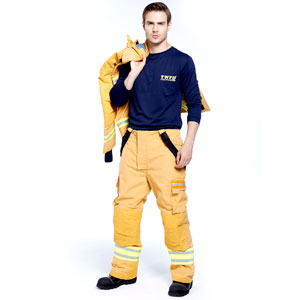 TWFD® T-shirt
Self-owned fabric brands, TWFD® guarantees quality and origin of materials. The T-shirt is of good quality for moisture perspiration and will soon be ready for purchase on Taiwan PChome online shop.
More
KANOX® FR Fabrics / SUPER ARMOR Turnout Gears Taiwan K.K. will Present its FF Suit on Next Düsseldorf A+A in October 2017 Invoering
Taiwan K.K. Corp. offers you innovative fire resistant fabrics, flame retardant clothing, and high performance turnout gears at reasonable costs. Taiwan fire fighting garment and clothing supplier providing high performance protective turnout gear, fire retardant clothing, flame retardant fabric, anti-static fabric, heat insulation firefighter clothing. With more than 20 years of experience in manufacturing fire fighting garment, protective clothing, fire retardant fabric, fire resistant clothing, flame retardant fabric, fire retardant clothing and more.